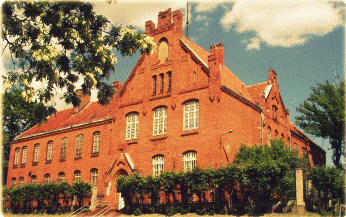 25 czerwca to dzień, na który z utęsknieniem czekali wszyscy uczniowie, to jednocześnie dzień podsumowania wspólnej pracy  wychowanków i pracowników.
Uroczystość rozpoczęła się Mszą Świętą koncelebrowaną przez księdza dziekana  Marka Paszkowskiego i kapelana zakładu księdza Stanisława. Podczas mszy trzech chłopców (Czarek, Michał i Piotrek)  przyjęło Sakrament Bierzmowania.
Po przeżyciach religijnych,  wspólnie zaśpiewaliśmy hymn państwowy. Następnie wybrani uczniowie przybliżyli patronów roku 2021, a są nimi kard. Stefan Wyszyński, Stanisław Lem, C.K. Norwid, K.K. Baczyński oraz Tadeusz Różewicz. Zaprezentowali wybrane utwory literatów.
Podsumowania dokonała  Dyrektor zakładu Pani  Irena Mysakowska oraz Dyrektor szkoły Pan Jacek Goworek. Dla  najlepszych uczniów przygotowano nagrody.
Najbardziej wyczekiwanym momentem było otrzymanie świadectwa, a tym samym zakończenie roku szkolnego. Rozpoczęliśmy upragnione wakacje….
J.Kujawa