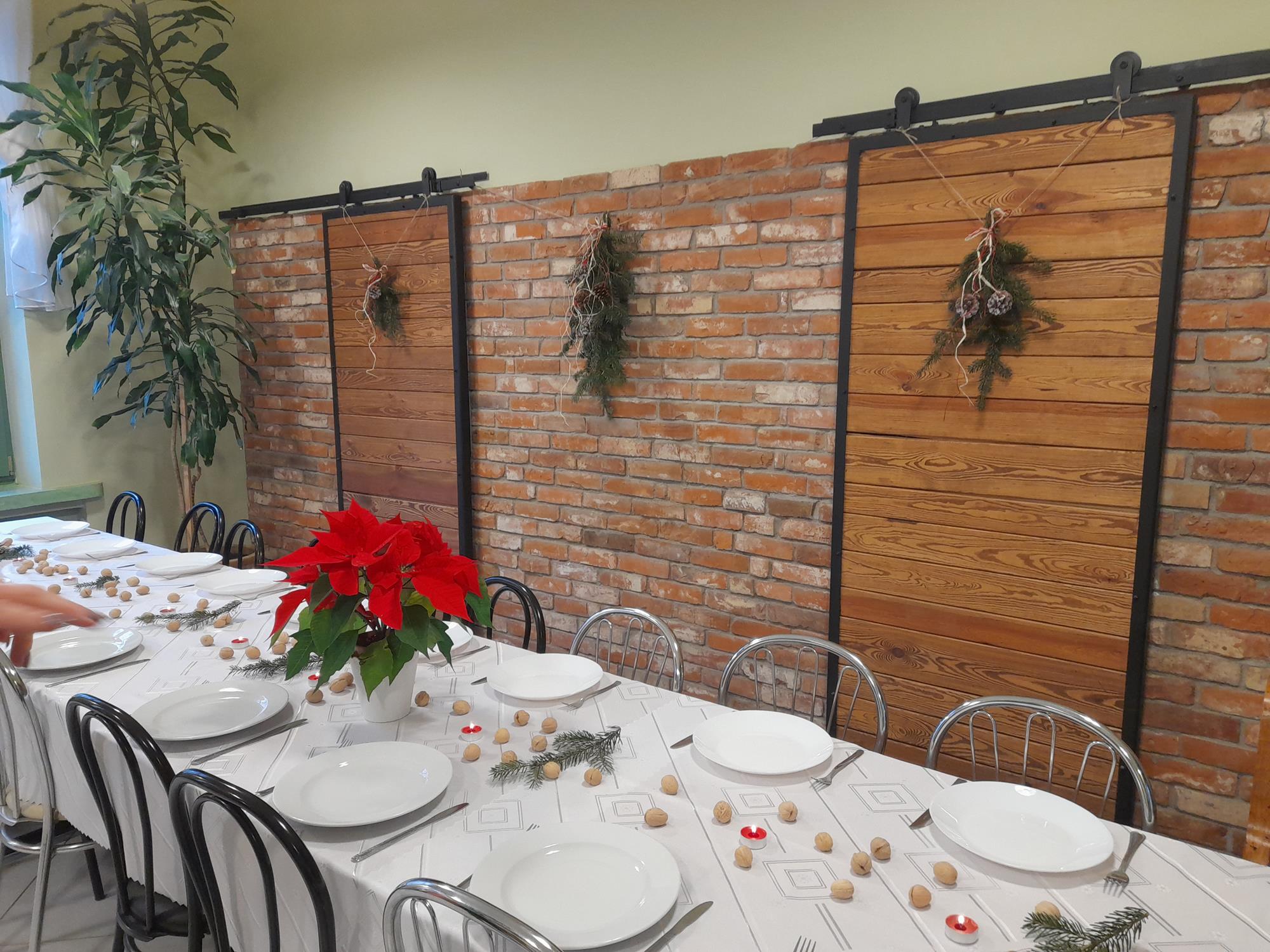 Tradycją w naszym zakładzie jest coroczne Rodzinne Spotkanie Mikołajkowe, organizowane przez pracowników zespołu diagnostyczno- korekcyjnego. Odbywa się ono systematycznie od kilku lat, wcześniej przeszkodziła nam jedynie pandemia COVID-19.
W tym roku, 17 grudnia, warunki pozwoliły nam na realizację tego uroczystego wydarzenia. Jakże miło nam było gościć tak wiele osób. Przybyli członkowie rodzin naszych wychowanków,  pracownicy zakładu oraz wszyscy wychowankowie. Za to ogromne brawa i podziękowania chłopakom.
Kiedy pięknie przystrojona stołówka wypełniła się zapachami pysznego barszczu, pierogów, krokietów i kompotu z suszonych śliwek, zasiedliśmy do wspólnego obiadu. Następnie na stole pojawiły się słodkości, orzechy i mandarynki. Wszyscy konsumowali je z ochotą popijając kawę i słuchając polskich kolęd. Było gwarno i wesoło. Jedni rozmawiali, inni zajęli się dekorowaniem upieczonych przez wychowanków pierniczków, a jeszcze inni śpiewali kolędy. Dla nas było to okazją do lepszego poznania się i rozmów z bliskimi naszych chłopców.
Atrakcją  wydarzenia był występ iluzjonisty, który przyjechał do nas z Ostródy. Pan Adam to prawdziwy czarodziej. Niektórzy nie dowierzali temu, co zobaczyli.  Marek, Dawid i Pani Dyrektor wzięli nawet udział w pokazie, ale świat magii pozostał nieodkryty….
Spotkanie było udane, jedzenie przepyszne, a atmosfera iście świąteczna. Zadowolone twarze uczestników wynagrodziły nam cały trud przygotowań.
Dziękujemy Pani Dyrektor, wychowankom i współpracownikom za pomoc w organizacji tego pięknego dnia.
Opracowanie:
Urszula Galska
Anna Watros
Ewelina Lubartowicz-Ochal